Stihl Chainsaws supplied by Angus Chainsaws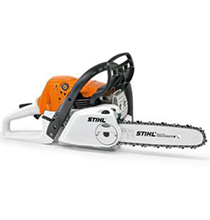 Stihl Chainsaw MS231 C-BE
The versatile MS231 chainsaw is ideal for private users or farmers felling small trees, cutting firewood and general landscape maintenance. The Stihl 2-MIX engine allows emissions to be cut by up to 70% and fuel consumption is up to 20% lower compared to a Stihl 2-stroke engine of the same power output without 2-MIX technology.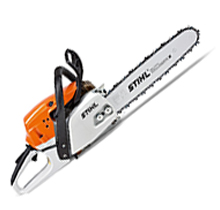 Stihl Chainsaw MS261
Lightweight durable professional chainsaw with up to five times longer filter life than the previous model. Easy clean HD2 filter. Practical features such as stainless steel muffler, captive nuts on sprocket cover and three quick release fasteners. Up to 20% less fuel consumption and 50% lower emissions.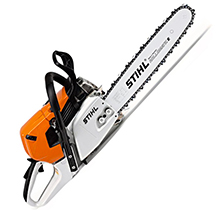 Stihl Chainsaw MS441 C-M
The MS441 C-M features Stihl M-Tronic, a fully electronic controlled ignition timing and fuel metering system. This modern, low vibration and high performance saw is simple to start and operate by automatically adjusting to the conditions you are working in. The M-Tronic system even remembers your settings from the last time you used the tool for quick and easy use. Optimised power to weight ratio. Very low vibration levels. Up to 20% less fuel consumption and 50% fewer emissions compared to conventional two-stroke engines without 2-MIX technology.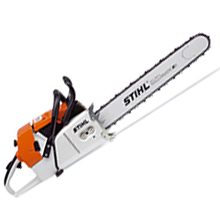 Stihl Chainsaw MS880
For the most demanding challenges and extreme conditions when harvesting big timber the Stihl MS880 meets the need. Robust design and excellent power to weight ratio make this saw ideal for the toughest jobs in the forest. Available in guide bar lengths 30"/75cm to 48"/120cm.
Also available to download:
Our company has over 40 years of experience in the business and can help provide you with the correct Stihl Chainsaw.
Call or email Angus Chainsaws.
Tel: 01241 830 240
Mobile: 07767 617 533