Stihl KombiTools and MultiTools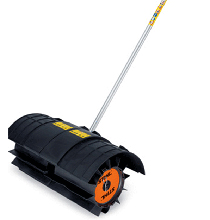 Stihl Power Sweep KM-KW
The PowerSweep KombiTool and guard is a very efficient way of sweeping up dirt, rubble, leaves and lots more.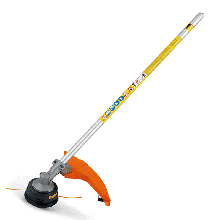 Stihl KM-AC Brushcutter with Mowing Head
The AutoCut 25-2 mowing head KombiTool is ideal for tidying up along walls, fences, hedges and path edges.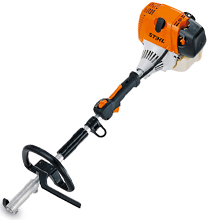 Stihl KombiEngine KM130R
Highly competitive and very powerful KombiEngine for demanding and frequent applications. With the patented Stihl 4-MIX® engine providing fast acceleration, more power, added torque and increased fuel efficiency when compared to a 2-stroke engine. With loop handle for difficult terrain and confined conditions. Quick release coupling for easy dismantling and changing of tools. Suitable for all KombiTools. Also available in KM 130 version with bike handle.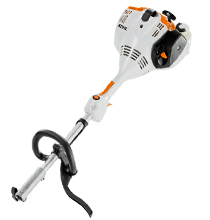 Stihl KombiEngine KM56RC-E
One engine with many optional tools that can handle a variety of tasks would be just one way to describe the Stihl KombiSystem. From edging to trimming, to sweeping and even blowing—the low-emission Stihl KM 56 RC-E and its optional attachments are great for a wide range of jobs around the garden. Featuring our ErgoStart (E) system and a new simplified starting procedure that helps prevent flooding, there's no longer a need for a strong or fast pull of the starting cord. Quick-release coupling for easy dismantling and changing of tools.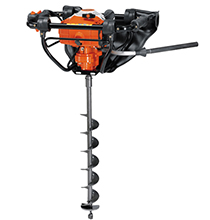 Stihl Earth Auger BT121
Packed with power, it's what professionals use on tough terrain or remote jobs where power and light weight are a priority. This lightweight, one-man auger features our exclusive Stihl Quickstop® brake, a great feature if you contact a rock, root or other immovable object. When the bit hits a rock, the BT 121's STIHL Quickstop® brake activates and stops the bit from rotating. The BT 121 is also equipped with transmission lock-out for easy starts and easy "back out" if the bit gets stuck.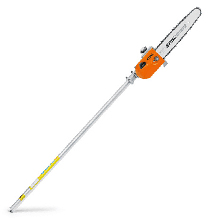 Stihl Pole Pruner KM-HT
Makes quick work of pruning trees and shrubs. Side-access chain tensioner makes it easy to adjust the chain. Oil tank cap with retainer helps keep you from losing the cap. Optional shaft extension. Suitable for all loop handle KombiEngines (KM56 RC-E, KM90 R, KM100R, KM130R, FR130T).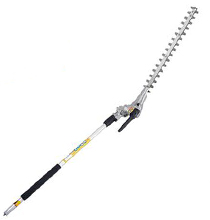 Stihl Hedge Trimmer KM-HL135
The KombiTool fixed hedge trimmer attachment makes it easier to reach those hard-to-trim hedges. Suitable for all loop handle KombiEngines (KM56RC-E, KM90R, KM100R, KM130R and FR130T).
Also available to download:
Our company has over 40 years of experience in the business and can help provide you with the correct Stihl MultiTool.
Call or email Angus Chainsaws.
Tel: 01241 830 240
Mobile: 07767 617 533