Stihl Safetywear supplied by Angus Chainsaws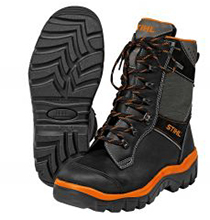 Stihl Chainsaw Boots Ranger GTX
Stable chainsaw leather boots with cut protection for all chainsaw work with waterproof, breathable GORE-TEX ® membrane. Rough tread, self-cleaning, non-slip profile soles. Ankle protection in shaft. Shock absorbing midsole in striking orange. Safety reflectors on sides and back. Robust loops for pulling the boots on. Easy-roll lacing elements with locking hooks for fixing the lace in place. BS EN ISO 17249a, Class 1 protection (=20m/s).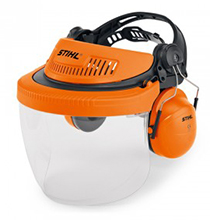 Face and Ear Protectors G500-PC
Professional protection when using a brushcutter with optimal balance. Adjustable straps plus adjustable ratchet system at the back. Removable ear defenders with forehead protection with ventilation slots, polycarbonate visor. Meets SNR28, EN166 and EN352.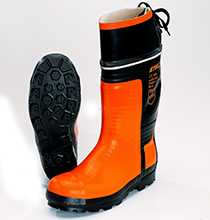 Stihl Rubber Chainsaw Boots
Rough tread, self-cleaning, non-slip rubber profile soles, rubber body with tie, reflective band. Sole suitable for spikes, profile on base. BS EN ISO17249, cut resistance Class 3(=28 m/s).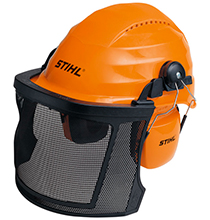 Stihl Integra Helmet Set
Light helmet set with a large visor and integrated safety glasses (also suitable for clearing saw applications). EN166, EN352, EN397, EN1731.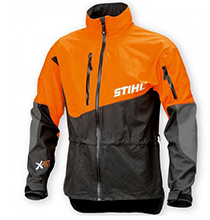 Stihl X-Fit Jacket
The X-Fit jacket is both modern and smart for those that want to look their best whilst working. The jacket is made from the latest technology, water-repellent, 3XDRY® fabric, with special surface treatment to transport moisture away quickly. Jacket also features Keprotec® reinforced elbow patches, 4 pockets and additional underarm ventilation.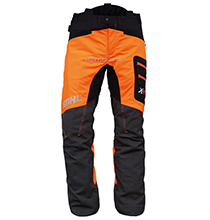 Stihl X-Fit Trousers Design C
Design C trousers complete the X-Fit range. Class 1 chainsaw protection to BS EN381-5 standard. 3-XDRY fabric is water-repellent on the outside and absorbs perspiration on the inside keeping you cool and comfortable. Reinforced knee to ankle and rear ankle patches, 4 pockets, reflective Stihl logos.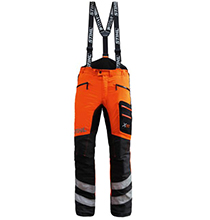 Stihl X-Fit Trousers Design A
X-Fit top of the range Design A trousers feature class 2 chainsaw protection also includes 7 protective layers, 3XDRY® stretch fabric with a unique surface treatment, reinforcements, integrated and removable braces, numerous pockets, a hook to fix your trousers to your boot and additional ventilation.
Also available to download:
Our company has over 40 years of experience in the business and can help provide you with the correct Stihl Safetywear.
Call or email Angus Chainsaws.
Tel: 01241 830 240
Mobile: 07767 617 533