Etesia Ride-On and Electric Mowers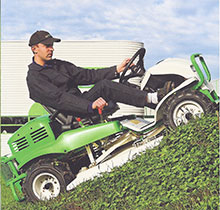 Etesia Attila Brushcutter Range
They go where others fear to tread…Attila professional reapers and brushcutters are designed to cope with the most difficult conditions. They are ideal for second homes, meadows, orchards, fallow land, verges and embankments. Very robust but also extremely manoeuvrable, they guarantee unrivalled effectiveness.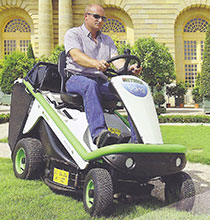 Etesia Bahia Electric Ride-on Mower
The first fully electric ride-on-mower with grass collection. Drive and blade transmission 100% electric. Performance equivalent to the petrol version. Very low noise whilst driving. Zero emissions of carbon monoxide, nitrogen oxide and carbon dioxide. Zero discharge of hydrocarbons, smoke and particles. Compact, tenacious, flexible and multi-tasking, Bahia adapts to every terrain, every grass-cutting situation and every task. Minimal guaranteed lawn moving output 2500m2 or 2 hours of mowing + 1h30 with batteries trailer.
Etesia Biocut SKM
Compact, reliable and efficient, the ride-on SKM (mulching) is extremely comfortable and highly ergonomic and offers a maximum field of view. Ride-on mulcher Biocut SKM has an 85cm cutting width and Kawasaki engine FH 541V, Twin cylinder, 17Hhp. The Biocut SKM has large wheels and also a very low centre of gravity, optimised weight distribution (33% to the front and 67% to the rear) for easy driveability and stability on banking. The differential lock will allow you to retain control while mowing on slopes, even if a drive wheel loses adherence.
Etesia Hydro124D
The Hydro 124D from Etesia is the first mower that combines direct rear-ejection, integrated collection and high-lift emptying. All features that make it one of the most highly efficient machines on the market, designed to mow up to 19,000 square metres, 24m cutting width. The two counter-rotating blades are mounted at right angles. Speeds of up to 16km/h depending on the conditions. The weight is distributed with 30% on the front axle and 70% on the rear. Differential lock-through flow divider.
Etesia ET Robot Mower
The area to be covered by Etesia's Robot ETmower is marked out by a low voltage peripheral cable buried in the ground. Once this has been installed your robot Etesia ET Mower gets to work automatically according to your programming and cuts the grass without any fuss. Robot mowers reduce the cost of lawn maintenance considerably, not only in terms of labour and maintenance costs but also by cutting your energy bill because they are electrically powered. CO2 emissions are much lower than for conventional powered mowers.
Etesia Hydro 80 Evolution
The Hydro 80 cuts and collects both long and short grass, without clogging. But this little workhorse does much more for non-collection there is a side discharge or rear ejection for longer grass. If you want a mulching mower Hydro 80 does that too. The Etesia Hydro 80 can adapt to all ground conditions, which makes it an incredible versatile machine for the professional landscaper. Superb mulching thanks to standard included mulching plug. Snow plough to clear snow from your paths and pavements fast.
Etesia Hydro 100 Evolution
Cuts and collects without clogging, even in the pouring rain! A unique concept that cuts and collects grass in all weathers. Top quality manufacturing ensures mowing, season after season. The new Hydro 100 Evolution out-performs all other ride-on mowers in its class: more powerful engine, larger capacity grass collector, and more operator comfort. Hydro 100 Evolution really sets the standard for all ride-on mowers. Easy emptying, mows in very high grass.
Etesia Hydro 124/144
The Hydro 124/144 family is at the forefront of innovation and performance in all areas of professional mowing. Grass collection with the Hydro 124 and mulching with the Hydro 144. These ride-on mowers dedicated to large and medium-sized areas boast an efficiency, cutting quality, power, manoeuvrability, compactness, comfort and versatility unrivalled on the market. The recent arrival of the 4WD and Bio versions gives the range a new dimension with improved crossing capabilities and a real contribution to the protection of the environment.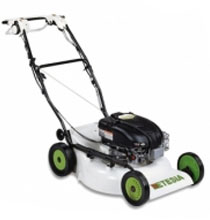 Pedestrian Mowers: Pro, Duocut, Biocut
The new range of mowers are extremely versatile and capable of mowing with or without collection in all conditions or allowing high-quality mulching. And they do all that with no need for an accessory! Built for any grass condition, powerful, compact, easy to use, safe, ideal for a wide range of grass conditions. The self-propelled models offer rear-wheel drive through belt and reduction box ensuring perfect drive, especially on slopes. Combining professional quality cutting, collecting and mulching in a single machine. (Biocut53 pictured)
Also available to download:
Our company has over 40 years of experience in the business and can help provide you with the correct Etesia mowers for the job and to keep you and your machinery on the move.
Call or email Angus Chainsaws.
Tel: 01241 830 240
Mobile: 07767 617 533